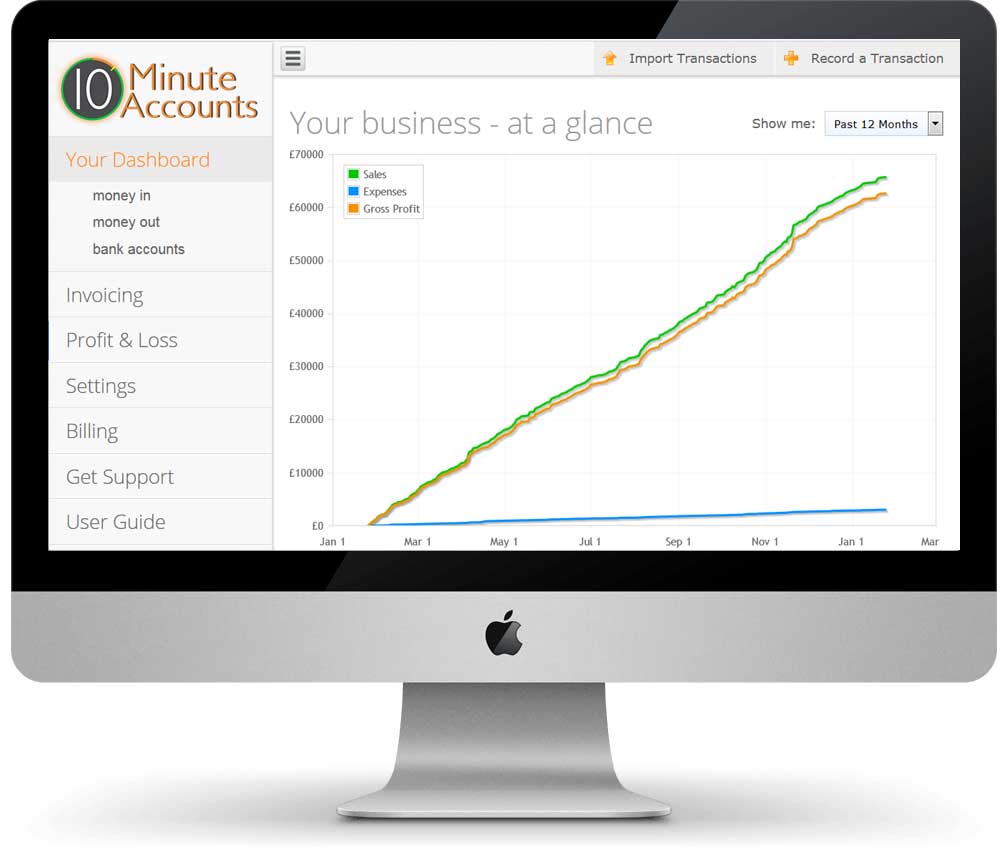 This is Accounting Software, designed for eBay sellers.
If you sell on eBay, you can use 10 Minute Accounts to track your income and expenses.
You'll see in real-time what's making you money, and what's costing you. It updates almost as soon as you make a sale.
If you need to file taxes, 10 Minute Accounts is HMRC-recognised, and all the information you'll need is right there.
Best of all, 10 Minute Accounts is almost entirely automated. Once you've integrated with PayPal your transactions will flow in instantly – so you can just log in when you need to check up on things, and leave it running.
How 10 Minute Accounts integrates with eBay and PayPal
10 Minute Accounts is fast.
First you need to integrate PayPal. This takes around 30 seconds.
Once you've done this, PayPal will automatically update 10 Minute Accounts, and import your transactions. All your eBay sales that are sold through PayPal are imported into your account in minutes.
As they are imported, your transactions are automatically classified as Sales or Expenses, or Bank Transfers. If you've classified a specific product or sale type in the past, the system 'remembers' and classifies other transactions the same way in the future.
If you have other businesses, or you receive cash or bank transfer payments, you can import transactions direct from your bank account. Import your online bank statements, and the transactions will be classified the same way as PayPal transactions.
You can update the way transactions are categorised, either one at a time, or by matching all similar transactions at once.
Once your transactions are in place and classified, you'll see just how powerful the system is. Sales and Expense categories mean you can track your best sellers or biggest costs; Profit and Loss calculations will automatically be updated; your charts will show trends and quirky blips.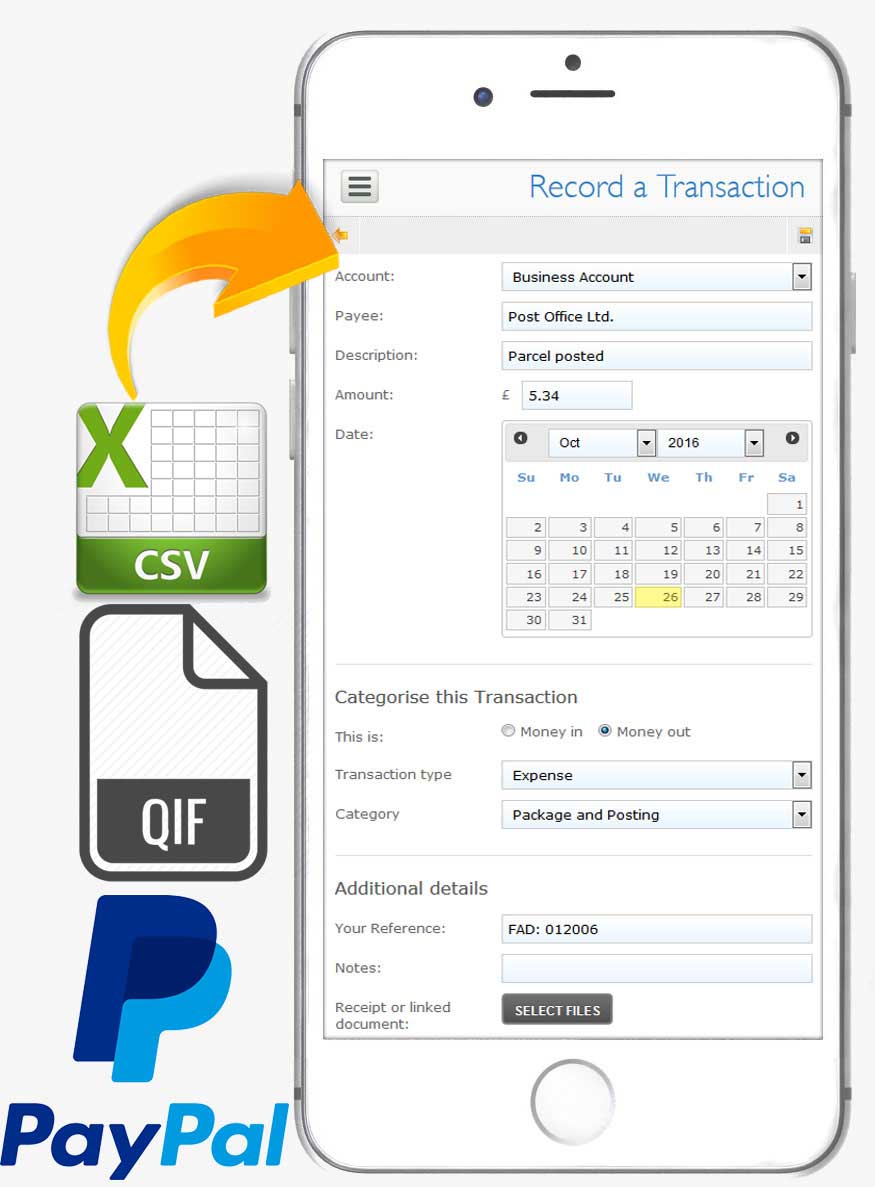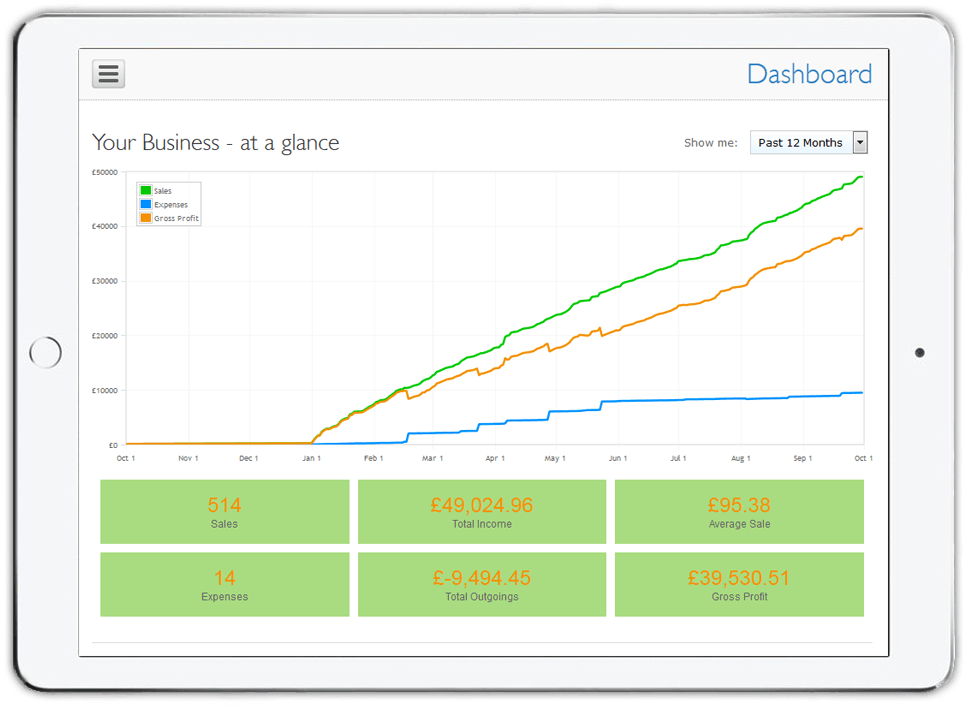 Check your eBay Sales from your phone, tablet, PC or Mac
You can use 10 Minute Accounts from ANY internet-enabled device.
The software runs in your browser, so you can access 10 Minute Accounts from your phone, tablet, or computer. It doesn't matter if you use Windows, Mac or Linux. 10 Minute Accounts works on every internet-connected device, and will keep working even if you upgrade your computer or change your Operating System.
The charts, dashboard and transactions are linked to your PayPal account, and they'll update in real-time. Log in from anywhere, anytime, and see exactly how your business is doing.
Automatically invoice your eBay customers
It takes a few moments to set up invoices, and it instantly adds a level of professionalism to your business. Even if you're not yet a big time seller, you can underline your brand and get your logo seen by customers. It's just one extra feature to to help customers come back and buy again and again.
Invoices can be automatically generated and sent to your customer every time you receive a PayPal payment.
If you create invoices manually, you'll love how much time this saves you – and if you're registered for VAT, VAT itemised invoices can be created as standard.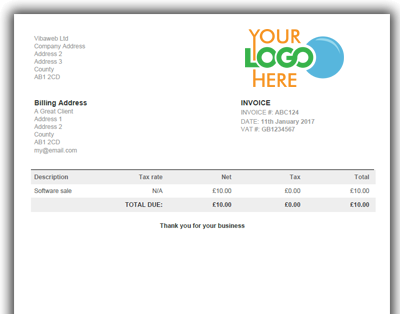 Help! I've got another question!
If you have any question not answered here – just ask! Click on Chat at the bottom of this page and you'll experience our legendary customer service and support – completely free.
Once you've started using 10 Minute Accounts, you'll also have access to the Support Portal, where you can ask support any question you like.
We're based in Chester, UK, and have regular UK office hours. Our support times are 9am – 5pm, Monday to Friday.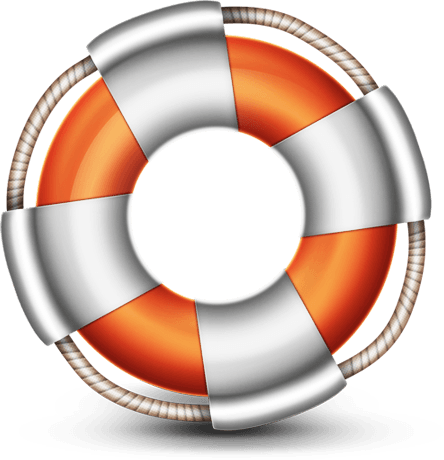 Get Started for Free
Try 10 Minute Accounts today – and see how it can help YOU